Eleanor and Hick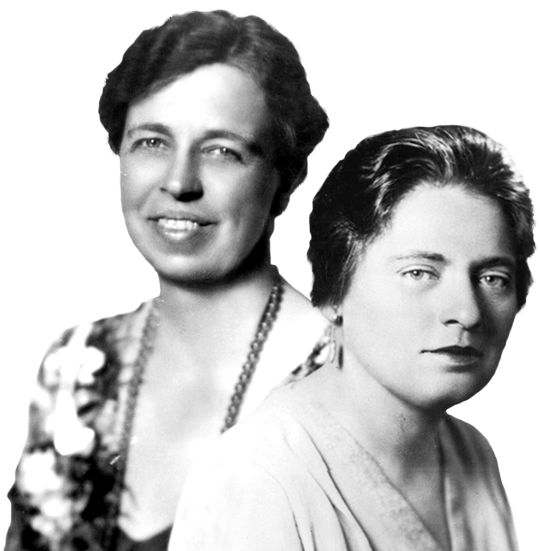 Critical Acclaim
"fascinating and gossipy"
"
"Meticulously researched, engagingly written, and emotionally resonant, this is a welcome addition to the Roosevelt book shelf."
"
"the abiding impression of this book is the intricacy of Roosevelt's intimate life"
"
"Captivating...In prose that reads as fluidly and mesmerizingly as fiction, Quinn tells the story of the First Lady's marital discontent and determination to live an independent life despite her prominent position in the public eye, and of the 30-year-long partnership and love that unfolded between Roosevelt and Hickok…Beyond just a compelling love story, Eleanor and Hick brings to light a different side of the early-20th century White House, revealing the significant impact of this unconventional relationship on American political and cultural history."
"
"Quinn brings new depth to their epic, decade-long love story."
"
"a parallel portrait of two unconventional women caught up in the maelstrom of 20th century politics and world affairs … provides helpful context in this electoral season … when the (male) nominee has belittled a female reporter for (in his words) having 'blood coming out of her wherever.' It's too bad Lorena Hickok isn't still around: She'd have slugged him."
"
"Quinn deftly explores how the unlikely relationship evolved, relying on correspondence between the women, oral histories in archives, various government documents, and numerous other sources that allow readers to learn a great deal about normally private affairs. The author's exploration of Hickok's journalism and government jobs offers detailed, fascinating human portraits of citizens caught in the grip of an extended financial depression. The benevolent and often daring initiatives of Roosevelt have been copiously documented for decades; Quinn sorts through the massive volume of material, making wise choices about how best to illuminate Roosevelt's character.

A relentlessly captivating study of two remarkable individuals who helped extend the roles of American women in the public policy realm."
"
"an intimate book, tender and wise."
"
"Fast paced and engaging, this work will enthrall readers of presidential biographies and LGBTQ studies."
"
"marvelously weaves the lives of these two women together, showing their fierce independence and continual dependence on each other."
"
"Quinn tells Eleanor's always astonishing story from a freshly illuminating perspective and brings forward to resounding effect intrepid, eloquent, compassionate, and tough Hick. With episodes hilarious, stunning and heartbreaking, Quinn's compellingly intimate chronicle tells the long-camouflaged story of a morally and intellectually spirited, taboo-transcending, and world-bettering love."
"
"Eleanor Roosevelt's love affair with ace AP reporter Lorena Hickok, carried on just outside public view during the most public years of their lives, fascinates and inspires in Susan Quinn's irresistible telling.
Eleanor and Hick
is a powerfully moving and vital story that could not have been told in its day, and alters radically what we thought we knew about America's most influential and best-loved First Lady."
"
"This is an important and probably unique biography in the history of the U.S. presidency. The special virtue of
Eleanor and Hick
is that Susan Quinn permits us to see how Eleanor Roosevelt's long, intimate relationship with Lorena Hickok helped her become not just a First Lady but a great one: courageous, committed, compassionate—and complicated. A triumph."
"
"Susan Quinn's tender book of love and loyalty—set during the most tumultuous time of the twentieth century—reads like a whispered confidence. The forbidden relationship between First Lady Eleanor Roosevelt and hardscrabble journalist Lorena Hickok is one of the great love affairs in history, and yet it has remained largely untold. Thanks to Quinn, their beautiful and courageous story is a secret no longer."
"
"In telling with vivid detail the story of a remarkable relationship between two strong women, Susan Quinn has provided a new way to look at some of the most momentous events of the twentieth century.
Eleanor and Hick
is delightful, moving, penetrating history."
"